"She has been the greatest athlete there has ever been, and she has fought for her children during this stage twice or triple of what she fought when she won her major tournaments." Emilio Sánchez Vicario affectionately referred to his sister Arantxa last night while receiving the Ciudad de la Raqueta award in Madrid, alongside her and the rest of their family, as "world tennis references." "I am the oldest, but my siblings and I know that since the day Arantxa won Roland Garros, we are Arantxa's siblings. She has been an inspiration to many, the number one in the world, and the greatest athlete there has ever been, and I think she will continue to be for a long time. She is proving that family and motherhood are the most important match," he said during the event. The four siblings ― Javier, Arantxa, Emilio, and Marisa ― from the family saga of tennis players posed together, smiling, alongside their mother, Marisa Vicario. An image that hadn't happened in over a decade.
Arantxa Sánchez Vicario attracted a lot of media attention last September due to the trial in which she is accused, along with her ex-husband Josep Santacana, of asset embezzlement. In the end, the Prosecutor's Office reduced the prison sentence to two years for her and maintained a four-year sentence for him. In her latest statements, Sánchez Vicario excused herself from the crimes by blaming Santacana. "I wanted to pay, but he told me not to. He said that it was better for us to have the money instead of paying the bank. I trusted him. I regret it," she told EL PAÍS on September 12th. But she didn't always hold her ex-husband responsible. In her first statement after the lawsuit filed by Banco de Luxemburgo in 2009, the former athlete began an open war against her parents when she claimed that her father, Emilio Sánchez, had been in charge of managing her assets and that she and Santacana had nothing to do with the debt. She reaffirmed this in 2012 with the publication of her memoirs. "All parents do what is best for their children. However, with me, they have exercised control and protection that have nullified me in many crucial moments of my life," she explained.
The bad relationship reached a point where Arantxa publicly expressed in 2010 her intention to take possession of the properties that her parents had until then enjoyed the usufruct. In 2013, she lost a lawsuit she had filed against her father, her brother Javier, and her former lawyer Bonaventura Castellanos before the courts of Andorra for the improper use of her assets. "From the depths of our hearts, we forgive Arantxa for each and every one of those acts and omissions that during these years she (or her environment) has done and that have inevitably caused us immense and undeserved pain," Marisa Vicario wrote that year in a statement also signed by her husband. Two years later, her daughter lost another legal battle against them, being ordered to pay the legal costs of the judicial process she initiated against her parents and former advisors for leaving her bankrupt.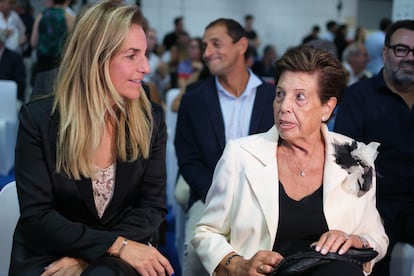 The story began to change in 2019, during the processing of her divorce from Santacana, when she tried to reconcile with her family once again. That's when she admitted regretting what she had said in her memoirs. "That book is my burden. I never should have done it. If I could, I would make it disappear because it is the worst biographical book in the world," she confessed in an interview with ¡Hola! A remorse that she expressed again last month in EL PAÍS. Now, it is Santacana's fault, not her parents, according to the former tennis player, for the embezzlement of over five million euros. The Prosecutor's Office asked her what caused this change in her version, to which she responded that it was once again her ex-husband's doing: "He forced me to say that, he told me that he was a businessman and that he knew, that he would take care of everything. I was wrong, and that's why I'm here."
A month ago, tears welled up in her eyes during the trial as she recounted that her ex-partner had managed her entire fortune since November 2009 when he took that power away from her father. "I have never managed that wealth because I don't know how. I have dedicated myself to tennis, and I have always relied on third parties," she said. This Thursday, October 5th, in Madrid, she couldn't help but break down in tears again, but this time, it was due to the emotional speech given by her brother. "Family is a word that is too powerful and nowadays sometimes gets sidelined because of the way we live and behave with all the technology, emails, and things that take away our focus from who we are," he said, highlighting the newfound family unity. The only person missing from the photo was their father, Emilio, who passed away in 2016 and was the one who instilled the passion for tennis in all of them, as they remembered. He died in February, seven months after the Sánchez Vicario family reached an agreement following the years of conflict that had divided them, but still without a family reconciliation that they are now proud to show.
Xem thêm bài viết thuộc chuyên mục:
Blog